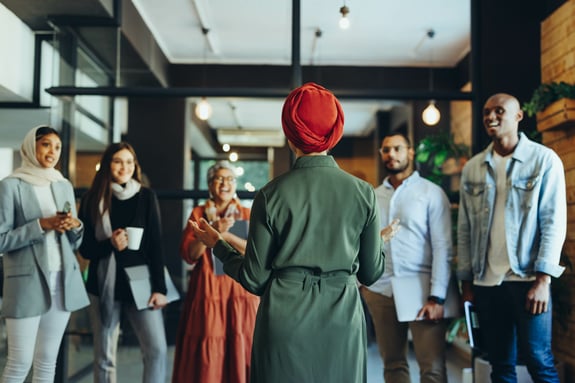 Inclusive Leadership Executive Certificate Program
Transforming Leaders into Champions of Inclusion
Duration
6-months, online
2 x 1-hr sessions
4 x 2-hr courses over 6 weeks
Program Fee
CAD

$4,500
$3000*
Discounts Available
For your team
Enroll your team and learn with your peers
Essential Skills for a Changing Workplace
Empathy in Action: Understanding Inclusive Leadership
Unlock your potential as an inclusive leader and secure your professional growth.
Enroll before March 30, 2023, 5:00 PM, and save up to $1500 to accelerate your career.
CAD $3,000
Pay by
30 March 2023 5:00 p.m. Eastern
CAD $3,500
Pay by
30 April 2023 5:00 p.m. Eastern
CAD $4,000
Pay by
30 May 2023 5:00 p.m. Eastern
CAD $4,500
Pay by
30 June 2023 5:00 p.m. Eastern
Don't miss out! Registration will end on June 30th at 5:00 p.m. Eastern. If you're on our waitlist, be sure to check your inbox for updates and a chance to secure your spot.
We understand that life can be unpredictable. That's why we offer a 100% refund if you cancel within 5 business days of purchase.
Why is Inclusive Leadership Critical for Business Success?
Inclusive leadership is crucial in today's diverse and rapidly evolving workplace. Inclusive leadership involves respecting everyone and recognizing their unique differences, perspectives, and backgrounds. It also entails creating an environment where everyone feels valued, included and empowered to contribute to the organization's success. Inclusive leaders are proactive in ensuring that every team member feels comfortable, supported, and has equal opportunities to grow and develop.
Organizational Benefits
Increased creativity and innovation: A diverse workforce brings different perspectives and ideas, leading to more creative problem-solving and innovation.
Enhanced employee engagement and retention: Employees feel valued and supported in an inclusive environment, leading to higher job satisfaction and lower turnover rates.
Improved decision-making: Inclusive leadership encourages open communication and collaboration, leading to better decision-making and outcomes.
Expanded market reach: An inclusive workplace reflects the diversity of its clients, leading to increased market reach and potential for growth.
Enhanced reputation: Organizations that prioritize inclusive leadership is seen as socially responsible and attract positive attention from clients, partners, and the public.
Introduction
Transforming Leaders into Champions of Inclusion
Leaders recognize that the Canadian workplace is evolving. Still, not all managers are well-equipped to successfully guide diverse and inclusive teams or organizations to capitalize on the potential benefits of a changing workforce fully.
Over the years, CCDI Consulting has trained hundreds of thousands of Canadian workers to understand the significance of Inclusion, Diversity, Equity, and Accessibility (IDEA). This has allowed them to foster workplaces where individuals feel valued, possess a sense of belonging, and where psychological safety is paramount.
Now CCDI Consulting Inc. launches a unique program tailored to support leaders and managers in leveraging the strength of diversity and inclusion among their employees.

Join us on our six-month personalized learning program that equips leaders with the skills, self-assessment tools, and knowledge necessary to build a positive and inclusive future. The program will cover various facets of personal development, such as skill-building, setting goals, implementing inclusive practices within teams, and providing action-oriented training.

Overview
Program Objectives
This 6-month program aims to provide personalized virtual instructor-led training and self-directed learning opportunities for leaders to enhance their knowledge and skills related to inclusive leadership. Each individual is assigned a personalized learning pathway based on their Individual Development Inventory (IDI) assessment results. This program also offers a secure environment where leaders can connect with peers to discuss and collaborate on their learning plans.

This approach ensures that we address the needs and current stage of each leader's Inclusion, Diversity, Equity, and Accessibility (IDEA) journey. This will aid them in advancing their organization's progress towards creating psychologically safe working environments, enhancing employee engagement, building high-performing inclusive teams, and fostering greater innovation.
Learning Outcomes
Evaluate

your

intercultural

competence

and connect

this knowledge to your

leadership

strengths and weaknesses

.

Integrate

inclusive leadership traits

into your leadership

style

Reflect on

IDEA topics and how

they

a

ffect your

workplace

Cre

a

te

a

personalized learning plan to continue improving your inclusive leadership

traits
Framework
How the Program Works
Intercultural Development Inventory
Receive and complete the IDI assessment link
Get your results back and book your debrief
Attend a one-on-one IDI debrief

Read more
Instructor-led Training
Book your personalized Instructor-led training session dates
Pre-work provided to complete before virtual sessions:


Two pre-recorded webinars to review before your Instructor-led training sessions


One article to read before your Instructor-led training sessions


Attend your four two-hour Instructor-led training sessions over 6 weeks. View all training topics.

Read more
Capstone Project
Complete your Inclusive Leadership Action Plan workbook through the duration of the program
Attend Peer Review & Discussion


You will be put into round tables to go through a guided discussion on your built Action Plans
Your program requirements will be reviewed.
You will receive your certificate and supporting resources and have built a self-guided Inclusive Leadership Action Plan
Explore Training Topics
Your four Instructor-led pieces of training will be tailored to your stage in the IDEA journey and will be chosen from the following list of options:
List of Courses
ABCs of IDEA
Moving from Unconscious Bias to Conscious Inclusion
Inclusive Communications
Managing Microaggressions
Leader Allyship
Understanding Privilege
Building Psychologically Safe Workspaces
Inclusive Leadership | Harnessing the 6 Essential Traits
Inclusive Leadership | Advocating in Times of Change
August 1st: Program Commencement
September 29th: Completion of IDI Assessments and 1-on-1 Debriefs
October 04th - November 30th: Virtual Instructor-Led Courses begin
December 5th: Completion of Part 1 of the Leadership Action Plan Workbook

December 6th and 7th: Mandatory Peer Review and Discussion Sessions
December 30th: Receive Certificates and Supporting Resources
Experienced Managers
Experienced managers, leaders, and those responsible for hiring, developing, managing, or mentoring employees. Regardless of the type of organization or industry, this program will intensify the positive impact you can make in your role.
There is no better way to learn than to do it with your colleagues. This program allows you to share a common language among the leadership team and maximize your impact. Contact us to register for group enrollment.
Prerequisites:
Aspiring Leaders
Aspiring Managers or Leaders are also welcome in this program. Preparing to manage and lead people is a critical skill, especially with an aging workforce and many experienced managers leaving the workforce.
There is a need for talented and trained individuals to fill the gap and address the uncertainty and economic instability currently facing Canadian workplaces. This program will also help you build leadership skills and prepare you for the next step in your career.
Prerequisites:
Please Note: This program is only available in Canada.