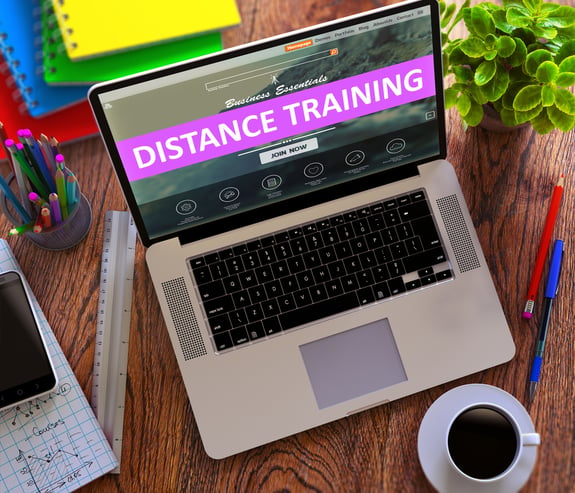 eLearning
Online Self-paced, Convenient, Interactive, and Accessible Diversity Training
Discover our online and scalable learning solutions ready to up-level IDEA coaching for your team.
Also called electronic learning is an umbrella term that describes education using electronic devices and digital media.
We offer self-paced, convenient, flexible, interactive, engaging, and accessible eLearning through CCDI Consulting's powerful Learning Management System (LMS), which features a responsive design so participants can learn from any device.

Learners have complete control over how, when, what, and where they learn. Since your employees' learning progress does not need to be synchronized with others, they can move from one topic to another at their own pace.
Key Benefits
Ready to create a more equitable and inclusive culture for your employees?
Discover the unique features of CCDI Consulting's eLearning for Organizations that set us apart from the rest.
Adapted to Adult Learner Needs
With more life experience and less free time, adults tend to care more about practical results than abstract theories. Our eLearning modules are designed to motivate adult learners to start and finish the course by recognizing how adults learn best using the most up-to-date practice and scientific evidence surrounding adult learning.

A key part of our eLearning courses is interactivity and engagement. Modules contain core information reinforced by real-life scenarios and case studies. Students can choose between potential responses and see their outcomes. As the eLearning modules are "confidential," individuals can make mistakes in private, learning from them without embarrassment or public scrutiny.
Cost-effective
Your organization saves money on travel and accommodations while reducing time away from other duties with eLearning.

Our eLearning modules achieve learning objectives in the shortest time with the least effort due to their design (Joshua et al., 2016).

Moreover, our eLearning content design and delivery are consistent across learners.
Convenient & Flexible
Accessible 24/7, our eLearning modules are available on almost any internet-connected device – ideal for remote or geographically disparate workers. Our eLearning also has a responsive design to adapt to various devices, browsers, and platforms
Employees do not need a dedicated workstation or connectivity to the organization's network. Learners can access our self-directed eLearning modules via their mobile devices. They can log on while commuting, at work, or during their free time. The learning material can be used when and where the learner wants, thus allowing them to complete the course when it suits their schedules.
Digitally Accessible
Courses align with the universal design for learning guidelines. It is mindfully and professionally designed to optimally suit a wide range of learners' needs, abilities, and learning styles.
It also conforms to level AA WCAG 2.1 accessibility guidelines, including:
Close captioning

Keyboard accessibility

Screen reader accessibility
Engaging & Interactive
Bring authentic workplace situations into the learning using experiential activities, such as scenario-based case studies and real-world examples.
Combining visually pleasing design elements, videos, animations, and illustrations, to optimize the learning experience by creating a more interactive and stimulating event. The variety of content in our modules increases engagement, helps learners retain the course content, and leads to better workplace interactions.
Available in English and French
eLearning Courses
IDEA Fundamentals
This course introduces core concepts and principles to help you establish foundational knowledge of inclusion, diversity, equity, and accessibility (IDEA). You will have a clear baseline for further understanding diversity and inclusion topics. You will also explore the benefits of creating an inclusive, diverse, equitable, and accessible workplace and society. Through self-reflection activities, practical examples, and case studies, you will start your IDEA journey on the path to self-awareness and inclusion.
Introduction to Unconscious Bias
This course explores one of the most pervasive barriers to inclusion in the workplace and society – unconscious bias. You will examine types of bias and their impacts on experiences in life and the workplace. Bias can not be eliminated, but it can be managed, so you will learn to identify strategies to increase awareness and mitigate the impact of bias in the workplace.
Course Details
Fully Updated Content
Our eLearning courses have been completely refreshed & highlight the latest research findings & best practices for implementing inclusion, diversity, equity, and accessibility (IDEA) in the workplace.
Covering core topics in IDEA, our eLearning is suitable for all audiences & knowledge levels. Our eLearning utilizes audio, video, & written media to support all learner styles & types.
Learning Management Systems
Seamless LMS Integration | ​Choose Your LMS or Ours
CCDI Consulting allows you to host our eLearning modules on your organization's Learning Management System (LMS).

If you do not currently use an LMS, that is fine. Our Learning Nexus LMS is easy-to-use, and we assist with the implementation process.
Use Your LMS
If your organization has its own Learning Management System (LMS), we will work with your team to provide the necessary proxy-SCORM files. This method allows learners to access the most recent versions of the courses, even when the modules are updated.
Utilizing your LMS gives you greater control of administration, reporting, and security management.
Easily integrate eLearning modules in employee onboarding, compliance, and other training initiatives.
Use Our LMS
Our robust Learning Management System (LMS) supports online cloud-based learning and is designed to inspire learners.
It combines impressive learning features that are well-organized and easy to navigate. It offers a seamless, simple, and user-friendly experience.
Our LMS provides a learner dashboard. We also provide administrators with scheduled reporting to automate their way to maximum efficiency.
Our LMS platform is also accessible. Its responsive design allows learners to access and easily navigate the platform from laptops, desktops, or mobile devices.
Data is stored and hosted on Canadian servers providing a secure, private, and confidential environment.
Our dedicated IT team is available to support LMS technical requests promptly.
Optimized and Scalable
Ideal for Medium to Large Organizations
CCDI Consulting eLearning modules are suitable for any organization with over 100 employees in Canada.
We offer a variety of courses to meet your requirements, whether you are interested in ongoing training or one-time DEI training for small groups or teams. If you are a medium or large organization seeking to incorporate DEI training into your program on an ongoing basis, please visit Learning Solutions by CCDI Consulting or book a meeting with us to explore more options.
The Power of eLearning in Canadian Workplace DEI Programs
Diversity, equity, and inclusion (DEI) have become a top priority for organizations in Canada as...
8 Fundamental Principles for Effective Adult DEI Learning Infographic
Ready to get started?
Contact us to discuss how to integrate eLearning into your inclusion, diversity, or equity strategy.
Microlearning as Part of a D&I Training & Development
Microlearning offers flexible and accessible learning, which has become increasingly...
The Power of eLearning in Canadian Workplace DEI Programs
Diversity, equity, and inclusion (DEI) have become a top priority for organizations in Canada as...